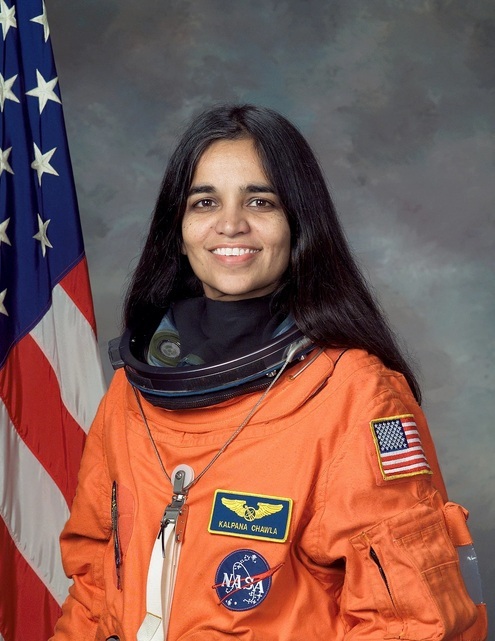 "Do something because you really want to do it. If you're doing it just for the goal, and don't enjoy the path, then I think you're cheating yourself." Dr. Kalpana Chawla
KALPANA CHAWLA – the first Indian-born woman in space is Tagore Baal Niketan's most famous alumni.
Born in Karnal in 1962, she completed her schooling from Tagore in 1976. Kalpana went on to complete her Bachelor of Science degree in Aeronautical Engineering from Punjab Engineering College, Chandigarh in 1982 and moved to the United States the same year where she obtained a Masters degree in Aerospace Engineering from University of Texas, 1984 and her PhD in Aerospace Engineering from University of Colorado in 1988.
In 1988 she began working at NASA in the area of research on Vertical/Short Takeoff and Landing concepts. Kalpana held a Certificated Flight Instructor rating for airplanes, gliders and Commercial Pilot licenses for single and multi-engine airplanes, seaplanes and gliders.
On her first space flight in 1997 as a mark of profound love and respect to her alma mater, she flew a T-shirt into space as a memento sent by her school with the picture of Kalpana and school emblem painted with the words
"TAGOREANS PROUD OF KALPANA "
At her request, NASA invited Tagore Baal Niketan to take part in the SUMMER SPACE EXPERIENCE PROGRAMME. Starting in 1998, every summer the International Space School Foundation in Houston, Texas, USA hosted students from India each year. The programme included dinner at her home complete with Indian cooking prepared by Kalpana. "Whatever you believe in, just follow your dreams. Don't worry about whether people encourage you or not" an 18 year old Indian student remembered her saying.
Every year meritorious student/s from Tagore are sponsored to the programme to participate amongst many schools from the world over.
Till date every year meritorious student/s from Tagore are sponsored to the programme to participate amongst many schools from the world over.
Our representatives – Present - 1998
Letters from Kalpana Chawla to Ms. Vimla Raheja (Founder)
Her last e-mail – dated 16th January, 2002
"My dear Raheja Didi, Daljeet Didi, Arora Didi and Tagoreans,
Thank you and a very Happy New Year to you as well. May it be full of insights, fulfillment of goals, new discoveries, paths to dreams, higher awareness, intellectual challenges, happiness. I would very much like to fly an item for Tagore School on my next flight currently scheduled for launch on June 25th. Same rules/restrictions apply as last time. I should receive the item by April 7th. The item should be mailed at my home address: 4017, Elderwood Drive, Seabrook, TX 77586. One suggestion would be a flag with school emblem with a quote that ties the emblem to education and exploration".
The school accordingly complied with her wish and sent a flag with a school emblem with a quote that ties the emblem with education and exploration. The quote is "Antriksham Vigyanam Anveshanam"
Kalpana's last letter dated 14th April, 2002 addressed to Ms. Vimla Raheja (Bade Didi)
"Dear Bade Didi, I am in receipt of the absolutely beautiful banner you have made for flight on Columbia. Thanks and Best"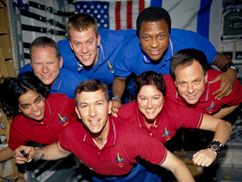 On January 16, 2003, Kalpana Chawla flew as part of the crew aboard the ill-fated space shuttle Columbia and died on February 1, 2003, when the Space Shuttle disintegrated over Texas during re-entry into the Earth's atmosphere with the loss of all seven crew members, shortly before it was scheduled to conclude its 28th mission. Kalpana was posthumously awarded the Congressional Space Medal of Honour, the NASA Space Flight Medal, and the NASA Distinguished Service Medal besides many awards and honours in India.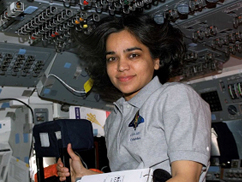 "None of our astronauts traveled a longer path to space than Kalpana Chawla," then U.S. President George W. Bush said. "She left India as a student but she would see the nation of her birth, all of it, from hundreds of miles above." "When the sad news reached her hometown," Bush said, "an administrator at her high school recalled, 'She always said she wanted to reach the stars. She went there and beyond'. She died a hero and role-model for many young woman particularly those in her hometown of Karnal where she periodically returned to encourage young girls to follow in her footsteps.
In the words of her brother, Sanjay Chawla – "To me, my sister is not dead. She is immortal. Isn't that what a star is? She is a permanent star in the sky. She will always be up there where she belongs."
The School has dedicated an auditorium in her memory – the Kalpana Chawla Auditorium.